When I started drinking real ale in the sixties, I never once saw beer lines being cleaned when a pub was trading. Common sense dictated that this was unacceptable and dangerous.
I remember,over 40 years ago, a Newcastle Breweries' manager in a Tyneside pub telling me that it was strictly against company policy to clean any beer lines while a pub was trading and that the penalty if caught in the act was instant dismissal.
Why then, when Health & Safety regulations now cover just about everything, is it such a common sight seeing beer lines being cleaned while bars are serving customers with food and drink ?
Murphy's Law states : 'Anything that can go wrong, will go wrong' and in the event of a pub dispensing cleaning fluid solution to a customer accidentally, this could result in serious injury or even death, followed by possible bankruptcy for the licencee in the event of legal action being taken (Public Liability Insurance does not cover negligence).
An example of a good quality beer line cleaner is Proton Protinate. It is a concentrated solution of Sodium Hydroxide and Sodium Hypochlorite. If allowed to come into contact with the skin or other soft tissues it could cause severe burns and it is highly poisonous.  If ingested, burns may appear around the lips and blood may be vomited. There may also be bleeding from the mouth or nose.   For full details of this product, visit the Proton website and go to the 5 page Safety Data Sheet on Protinate.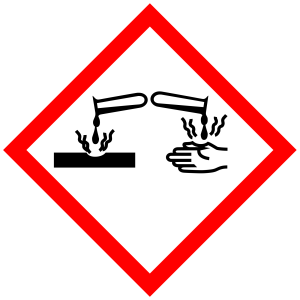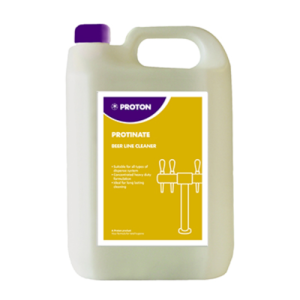 NOTE : If line cleaner is used under sane conditions, i.e. before a bar opens and with the cellar operative wearing rubber gloves and carefully following the user instructions on the container, then it is perfectly safe to use.
(Other beer line cleaners on the market include MOLSON COORS LINE CLEANER, SAVOL, PIPELINE CLEAR and CleanPro)
It beggar's belief why a publican should clean beer lines when a pub is open. Even if the cleaning fluid contains a dye, a customer could be served cleaning fluid solution and have swallowed some before the alarm bells start to ring.
Line cleaning of both real ale lines and also keg products should to be done once a week and should be completed before the doors open or failing that in an area that is sealed off to the drinking public.
When a barrel of real ale goes off while a bar is trading, all that is necessary is for the line to be quickly flushed through with water, then connected to the new barrel. This takes  a couple of minutes. In fact, if the beer has not gone cloudy at the end of the barrel and the same beer is going back on, then the beer line can be connected straight onto the new barrel in the cellar and beer pulled through at the bar until it tastes perfect.
There are financial motives for a publican should choose to clean beer lines when a pub is trading.  Firstly, it avoids the need to pay cellar staff to clean lines and secondly there is slightly less wastage, as the line is cleaned when a beer has gone off, but when lines are cleaned correctly once a week, any beer in the lines is wasted.
I often watch real ale line cleaning in busy pubs. The operatives rarely taste the clean water (or better still use a manufacturer's LITMUS TEST STRIP to detect traces of line cleaner) that has been pulled through, nor do they taste the beer for purity when it is pulled through, so they haven't a clue whether the beer is contaminated or watery (perhaps this is because the staff aren't permitted to drink any alcohol behind the bar.)  
Johnson Litmus neutral paper test strips are suppled with Molson Coors beer line cleaner. They are pastel coloured and if there are any traces of line cleaner in the solution they are dipped into, they turn blue.  If the solution is just water, then there is no change in the colour of the strip.
There is only one way to test if a newly pulled through beer or lager is in perfect condition and that is to taste it. This is not rocket science.                          
(Historical note : it was common in the North East of England for a new pub customer to ask for 'a pint of what the gaffer drinks', as landlords not only took a pride in their beer but were often seen carrying out quality-control checks by the pint)
During regular weekly real ale line cleaning, the operative should wear rubber gloves and also eye protection if they feel that necessary. The beer lines are unscrewed from the barrel taps and dropped into a solution of cleaning fluid in a bucket. Cleaning fluid solution at measured dilution is drawn into all the lines and left for about half an hour, with quantities being pulled through every 10 minutes.  The last  of the cleaning fluid solution is pulled out of the lines, which are then dropped into buckets of clean cold water and lots of water is pulled through to flush the lines clean. Before pulling the last of the water out of the lines it is checked with a paper test strip for any residual traces of line cleaner.
Next, the beer lines are re-connected to the barrels and beer is carefully pulled up to the bar by handpump. This beer should be tasted at the bar, to ensure that it not only tastes okay but that it is full strength, at which stage the plastic creamers (if used) are screwed back onto the swan necks of the handpulls and the doors can then be opened to the drinking public. 
When keg lines are cleaned, the remote cooler(s) should have been switched off for at least an hour, otherwise the line cleaning chemical (which should be mixed with warm water) does not work at optimum efficiency.  It is also commonplace to see bar staff cleaning the odd keg line during trading hours, presumably when a keg has gone off.  This practice is not only inadvisable and potentially dangerous, but as the remote cooler will still be running, the lines are not getting properly cleaned anyway, so it's a waste of time.
Even the biggest managed pub operator in the country, have a policy of ongoing line cleaning when their pubs are open to the public, if my observations are anything to go by.   Assuming that this mammoth company has very sophisticated cleaning systems, this does not detract from the fact that when their beer lines are being cleaned the products in question are off sale, which in itself is unprofessional.
The best way to dispense real ale is straight from the barrel behind the bar, with no lines or line cleaner or handpumps to worry about.  Unfortunately, space behind a typical bar is usually at a premium and does not allow 'gravity dispense'.   Also, as real ale needs to be kept at a cool temperature so that it stays fresher for longer, it is usual for it to be dispensed from a temperature-controlled cellar beneath the bar.  
Hardly surprising that some of the pubs in which I regularly see beer lines being cleaned, also have their unfortunate staff thoroughly cleaning the bar at closing time, so they presumably employ neither a cellar person nor a cleaner.
I called into an excellent  CAMRA Good Beer Guide listed pub for a couple of pints in April 2016 on Royal Parade, Harrogate. Despite there being a queue at the bar for drinks on this lively Sunday evening, one of the bar staff was occupied cleaning real ale lines, pulling dangerous cleaning fluid into a plastic container right next to active handpumps.                         Unprofessional in the extreme and putting customers at potential risk.                                         The two ales on handpump that went off when I was there could have been connected to new barrels and fresh ale pulled through in a minute or two.                                                                      It is absolute madness to start cleaning beer or lager lines in a busy bar.
………………………………………………………………………….
Request to readers (September 6th 2016)  :  I would welcome reports from readers regarding any incidences that they may know of, of persons having been served contaminated beer in public houses.  Please email me on : hughieprice@aol.com
For example, someone contacted me to tell me of an incident in a social club on Tyneside in which a customer who only drank grapefruit juice and who picked up what turned out to be a glass of cleaning fluid solution on the bar, took a swig and died later that day.   
Also, in December 2011, an article in the Daily Mail reported an incident in a licensed premises in which childrens' cordials were, by accident, diluted with a cleaning fluid solution and several children had to be taken to hospital.
It is obvious that such avoidable accidents could result, not only in persons being injured or killed, but the legal consequences could be catastrophic for the pub/club/licensee in question.
In January 2016 a Leeds bar owner was fined £20,000 plus hefty legal costs after a 48 year old man was left fighting for his life after being served line cleaner solution instead of beer.   Spanish television producer David Caminal had to have his oesophagus surgically removed and has suffered a life changing injury, which should never have happened.
Mr. Caminal was given the toxic solution in an 'upmarket' bar in Leeds and what should have been an enjoyable pint in a bar turned into a nightmare for him and his family.  David Caminal suffered excruciating pain as soon as he swallowed the liquid and was rushed to Leeds Infirmary with severe internal injuries. His family were told that he might not survive.
He was placed in an induced coma for 10 days, then flown back to Barcelona where it was eventually decided by surgeons that his oesophagus be removed and a new organ rebuilt linking to his stomach.   His solicitor said that her client Mr. Caminal now finds it difficult to eat solid foods and suffers from a range of related problems which has meant him giving up his career.
This dreadful occurrence could not have happened in an establishment in which beer lines are cleaned outside of trading hours.
LEGAL GUIDANCE  :
I have no vested interest, but David Caminal was successfully represented by his lawyer, Ms Jill Greenfield, who is a partner and head of the Serious Injury Sector with law firm Fieldfisher. Their contact number is 020 7861 4557 or she can be emailed on jill.greenfield@fieldfisher.com
FOOTNOTE, January 2016
How come an employee has to go on a half-day training course and get a certificate to use a hot & cold pressure-washer machine in a business and yet bar employees who clean beer lines with LETHAL chemicals need no formal training or certification ?   This defies logic.   If beer line cleaning fluid had just been invented, I am certain that Risk Management would be brought into play in all licensed premises and proper certification of cellar staff would also be required, not to mention a stipulation that beer/lager lines must never, ever be cleaned when customers are in a bar.
NOTE : The Proton Group can provide training materials for use with new and existing staff that instruct safe and proper handling of all of their chemical products. This company can be contacted on 01924 892834, or visit their website : www.proton-group.co.uk
SEPT 2016 :    9pm on a Friday night in a town centre bar in Keswick and their house Bitter plus Carling Lager both off sale for an hour or so as lines were being cleaned. Several customers walked out. Lots of complaints at the bar.  Are they trying to chase customers out of the door ?  Get real : clean all lines once a week before opening time.
…………………………………………………………………………..
Hugh Price
Tynemouth Lodge Hotel